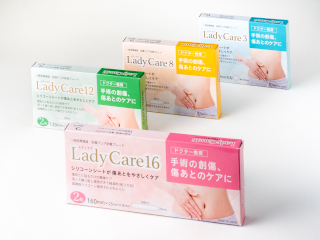 Lady Care is a line of silicone gel sheets used exclusively for postoperative care of incisions. Used after surgeries such as cesarean section and laparoscopic surgery, the sheet covers the affective area and protects it from excessive swelling (causing hypertrophic scars/keloid)
With it's unique shape (Patent Registered), it is easy to apply, stays firmly in place, and reduces the friction caused by the rubbing of clothes.
Additionally, as it is applied directly to the skin it works well and safely to limit rashes. By manufacturing in Japan, and using an FDA approved, medical silicone gel, we maintain consistently excellent quality from management to manufacturing.
This product was developed to be easy to use and allow for "Beautiful, Safe, Easy and Happy" self care.